Dear Bass Fishing Enthusiast,
If you're interested in catching more and bigger bass... this is going to be the most important message you will ever read.
Here is why…
There is a tournament angler in California named Bill Siemantel who is blowing to pieces every preconceived thought about catching big bass.
He's currently out West dominating the tournament scene with Troy Lindner… (that's Al Lindner's son by the way - You know, the founder of In-Fishermen!). Seriously, you may have seen their photo in the latest BassWest Magazine holding trophies for winning Angler of the Year.
Pro's on the Elite trails are literally throwing money at him to fly out and give private lessons to them on secrets and strategies for locating and catching bigger fish.
Not to mention he was just inducted into the Freshwater Fishing Hall of Fame and is an expert lure designer… he's the guy that invented the BBZ-1's (hottest of the hot swimbaits).
And so on. You get the idea…
"If You're Serious About Bass Fishing, It Is Deadly Important To
Follow The Things Bill Siemantel Is Doing and Inventing
Or You'll Be Left In The Dust!"
You see, back in 2005, tournament anglers were getting fed up losing to this guy and wanted to know his secrets. They knew what he was doing was DIFFERENT than what was being taught in the "mags". No one on the "trails" was even coming close to his success with big fish.
Word was getting around.
Now comes Michael Jones… a senior writer for Bassmaster Magazine for many years and professional journalist for over 20. Jones even published his own book titled, "The Complete Guide To Finesse Fishing" and is considered a pioneer on the subject of finesse.
Here's where the story gets very interesting.
Michael Jones was so in awe of the monster bass Siemantel was catching so consistently… he decided to investigate. Not that he believed Siemantel was somehow cheating, but something needed explanation… this was all too… well… NUTS!
Jones
Investigates

Siemantel's Tactics...
Learns The Truth

About Big Bass In The Process
Convinces Siemantel to Go Public With His
Closely-Guarded Secrets
As you can guess, Michael Jones discovers a revolution that is changing the game.
Fully entrenched in the lessons being taught by Siemantel, he becomes a sort-of apprentice. Jones is catching the biggest bass of his life, and doing it in ways he never thought were possible. He's getting an inside look at the very things everyone else was desperately trying to uncover.
They decided to team up and go public… it was time to start the revolution.
Your Chance To DOMINATE Your Fishing Buddies By Catching More and Bigger Bass
Using the Proven Shortcuts Discovered By World-Renowned Big Bass Expert
These guys teamed up and wrote THE book on big bass and is exactly everything you need to know to locate and catch the biggest bass that live in the waters you fish. This is an unbelievably exciting guide… designed to teach you Siemantel's most intense discoveries and secrets.
Packed into this amazing 288-page full color book are the keys to give you the advantage over your friends and competitors. You'll discover…
10 little-known reasons why you probably haven't caught a big bass (Once you discover these reasons, you will always have the best chance over competitors to catch big fish)
The 5 most important locations to find big bass (Anglers virtually never guess these correctly!)
A secret using your outboard motor that will turn big fish "on" … you will not believe this one!
The truth about "stealth" and why 97% of anglers get it wrong
A secret that works like magic for shore-fishermen - Puts them in a competitive advantage over boaters!

Why "big bass fishing" has NOTHING to do with California or rainbow trout

, and how anglers in states like Michigan and Connecticut can use these techniques for even more explosive results
The closely-guarded secret of "directional changes"... an advanced tactic that pushes a bass' hot buttons and forces them to attack your lure
Simple adjustments you can make that give you an edge over local anglers (Same reasons why elite pro's often outfish the local competition!)
What not to do if a fish follows your lure (nine out of ten anglers make this killer mistake every time)
An ultra-advanced secret for telling if a fish followed your lure even if you couldn't see one (you're not going to believe this – but it works!)
A little-known secret to literally move the strike zone and force bass to swim great distances to your lure!
Deadly mistakes anglers make when bed fishing (It's more than just dropping a white jig in the middle of a bed – You will soon see the errors of your ways)
How to consistently find big bass and supercharge the size of your catches under any condition
How to setup a "milk run" that lets you fish with near reckless speed!
Under-the-Radar techniques only known by big bass hunters that often dominate traditional "cast and retrieve" presentations
How to fish at break neck speed with a true strategy - while other anglers are wandering aimlessly without a clue
Why most anglers are crap at catching fish from the middle water column and how easy it is once you learn Siemantel's presentation for this
The shocking truth about polarized sunglasses and the REAL solution only the pro's know for seeing fish underwater with your eyes
Crucial tips for spotting bass on beds – Find out what pro's are looking for (And how most anglers only spot the "obvious" stuff that pro's do not care about)
How to easily "scour" the water column to find key feeding zones
Something crucial you must know when working your lure next to a bass and it refuses to bite (Not knowing this usually destroys most anglers chances of ever catching that bass)
How to use sonar to find key locations quickly (and the easiest way to tell if a big bass is present)
How to watch your sonar "live" and watch fish come right at your lure like you are playing Pac Man!
The most important factors of good Swimbait design (and how to spot poorly designed swimbaits easily)
Secrets to making suspended bass magically catchable
Siemantel's secret trolling techniques that greatly speed up the process of finding monster fish in key locations
What you should do to your Swimbait to get the perfect cadence everytime
How to analyze schools of bait with sonar (and the special assumptions you can make based on what you see!)
A little-known secret using big tube baits to cash in on the fall turnover when others are left clueless
How, with one simple technique, you can drastically reduce your chances of getting swimbaits hung up in brush and other gnarly cover
A discovery called "speed trolling" that makes good power fishermen great power fishermen (like their on steroids!)
Why water temperature is virtually irrelevant! (And the critical factors that are relevant, but ignored by nearly every angler!)
A secret about using your lure's shadow (and how it makes big bass turn into angry predators!)
Why the "magazines" and "tv shows" consistently deliver bad advice in regards to big bass hunting (you'll begin to laugh at their articles after buying this book!)
Where big bass really spawn! (Hint.. it is not with the other bass! Learn where to find them!)
How to consistently find big bass and supercharge the size of your catches under any condition
The single best approach to finding fish in an area!
Find out the effects of weather on big bass (you think they'll be obvious, but I bet you'll be surprised)
How to use Bill's "one-cast concept" and how not using it will do more harm than good
The ideal rods, reels and line for big bass presentations so you never have to guess what tackle to use again
Where to focus your eyes during the retrieve. Not knowing this will handicap your chances of catching a big bass (Hint… you don't look at your line or lure!)
"Pro's" secret for improving hook ups with bigger swimbaits and tubes
Why these strategies and techniques will make you "Go Psycho" and transform you into a big bass machine that frightens other anglers (especially tournament competitors)
How to incorporate finesse tactics into your big bass strategy and why finesse is a better "fall back" than regular crankbaits and spinnerbaits
Most important rigging tips with tubes that most anglers fail to pay attention to
The Secret to slow rolling and pulling big bass out of their ambush zones
How to deadstick swimbaits like the pro's
How to use the time-tested Float and Fly technique to force feed big bass
Why the so-called "top fishing magazines" continue to pump out useless drivel about big bass fishing and what you need to believe
Ultra-Deadly "rules of thumb" preached by the mags will kill your chances of catching monster bass - Find out what you need to know to understand big bass behavior
A dirty little secret many big bass hunters hope you never find out!
When big bass really spawn! (Hint… they do not spawn when most think!)
The most important considerations in targeting big bass on beds
The importance of moon-phases and what they mean in terms of catching big fish
How to stack the deck in your favor when hitting a brand new lake… and never worry about the "time of year, type of lake" mantra again!
How to literally rate spots on a map for big bass potential long before you ever hit the water (a secret game plan that really works!)
Why the side of your boat is often the key to getting a bass to strike (Most find this unbelievable)
A very common mistake anglers make when casting that will make or break your chances of catching a fish
How to position your body during the retrieve so you can be in perfect readiness to set the hook (Get this wrong and you'll have serious problems hooking up with big fish)
The proper technique for casting big swimbaits accurately. (And with minimal fatigue)
The dirty little secret to adding more action to any drop shot rig
Why rank amateurs have an edge against experienced anglers when learning big bass tactics
Simple tips for finding the proper retrieve speed and the lies that are puked out by the mainstream publications
"Insider" tips on how to shortcut your way to landing monster bed fish
How to "position" your rod tip and easy steps to ensure a perfect hookset (And why most get it wrong)
Why big lures ARE better (You'll be surprised to find out it's not because of size!)
The truth about big baits and smallmouth (And the low down for spotted bass too)
How to "categorize" swimbaits and catch big fish through proper "rotation"
How and when to rig a stinger hook (Find out the criteria that determines this)
Simple ways to tell if a monster tube bait is poorly designed (And what features make a monster tube awesome)
Psycho "Big Tube" power fishing (And why speed is King)
The "Bass-Way" of doing figure-8's on followers (And the crucial considerations you must weigh before trying this)
A special chapter devoted to flipping and pitching
Why fishing reports are the devil and how they will burn you big time!
The easiest way to exploit the "hotspot" on a single bed (Without over-agitating the female)
And much more!
Now listen up…
I want to make one thing very clear… this book is for fishing in any state! In fact, I believe anglers out East or up North have the most to gain from these tactics.
Perfect For
East-Coast

and

Northern Anglers

…
In fact, They Have The Most To Gain With These Techniques!
If you live out East or up North, you have a massive advantage with these techniques!
So many anglers out east and up north are still BLIND to these big bass strategies and what people don't realize is that these techniques work everywhere! But the top touring pro's are catching on...
Last year, Kevin VanDam won a B.A.S.S. tournament at Smith Mountain Lake in Virginia catching fish on a SWIMBAIT. Many of the fish he caught were smallmouth too!
I spent the day out on the water with Angler of the Year Skeet Reese here on the East Coast (Virginia) and all day he tossed even bigger swimbaits. Guess how many of the locals were catching fish with 6" swimbaits? Very few I bet... because virtually no one out east or up north knows how to. And they don't understand how many big bass they really CAN catch in just one day. (By the way, Skeet caught a bunch of big fish when I was out with him - on swimbaits!).
What's my point you ask?
It's wide-open for us guys out East and up North to dominate our lakes with this knowledge. Right now there are very few we have to compete with that know this stuff… And it will be quite some time before the masses realize they have missed the boat on the big bass gold rush that is happening right now in 2023.
Which brings up a funny story...
When they wrote this book, they had no idea what the demand would be for it. They knew the savvy anglers out West would jump all over it, but there was no way of knowing if people would "buy a book on targeting big bass". Bill Murphy's book from the 90's is even today, still a must-read for every hardcore fisherman, but even that book didn't make its way to the average "Joe-Fisher".
So the book publisher only agreed to a VERY limited printing… we're talking LIMITED folks. But that was cool… the word was getting out and that was all that mattered.
Then the Publisher Went Under!
This Book Is
Not Sold in Stores or The Reputable Online Bookstores

Anymore!
The only places you'll find it is through individual sellers online and why
I worked tirelessly to corner what's left of the supply
I was lucky enough to buy a copy of the book when it first came out. I bought it from Amazon for more than I'm selling it to you.. AND I paid shipping! (You don't have too!)
When the publisher went under the available inventory was up for grabs… and we got it folks!
When the inventory was taken away, people were selling Big Bass Zone on Amazon and Ebay for HUNDREDS OF DOLLARS. All of sudden it was gone and unavailable… unless you were willing to pay through the teeth!
I work hard here at BassFishin.Com to bring quality information and content to anglers. There is so much good stuff out there that isn't in the mainstream "mags" or on those Saturday-morning TV shows. You have to know about this stuff though. That's why we are proud to offer this to you for such an incredible price.
Even Better, You'll Get This Top Gun Big Bass Education
For A
Fraction

of What Everyone Else Has to Pay!
Listen, a lot of guys all over the country are going to be furious with me for sharing this "secret shortcut" with you.
But that's just too bad. I don't care… this is what the BassFishin.Com Store is all about. Only the best of the best and those products I stand behind 100%.
So let me give it to you straight: Order it right now by clicking the order button below – it's completely secure, safe and FAST.
Please ship me my copy ASAP! I'm ready and eager to start using this breakthrough system for catching more big bass. I realize I am getting access to Insider Secrets from Hall of Fame Angler Bill Siemantel.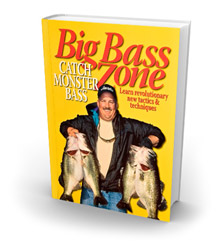 Limited Availability
Reg. $29 Today $21
Plus FREE Shipping!
Securely Order Big Bass Zone Now

2CheckOut.com Inc. (Ohio, USA) is an authorized retailer for goods and services provided by BassFishin.Com.
100% Safe and Secure
Sincerely,

Kevin Scarselli
Founder, BassFishin.Com
P.S. Don't risk missing this opportunity. If you're like me, living in the eastern or northern part of the country, this is our blueprint for catching bigger bass more quickly and easily than the competition. But just know… there is only a limited amount. There is nothing out there like this. Don't miss it! Act Now.
About Kevin Scarselli
Residing in Annapolis Maryland, Kevin Scarselli founded BassFishin.Com in the mid-90's and has pursued bass fishing endeavors his entire life. Kevin frequents the many rivers and lakes of the Delmarva region and travels extensively fishing well-known fisheries across the country in his 21' Triton bass boat. Also an avid saltwater fisherman just minutes from his saltwater fishing boat on the Chesapeake Bay (Severn River). For a changeup from the usual large and smallmouth bass, Kevin enjoys targeting rockfish, flounder and seabass.