BassFishin.Com Video Troubleshooting Guide
If you are having difficulty viewing the videos here on BassFishin.Com, this guide should help you determine the issue and give you quick advice on how to solve the problem so that you can view the videos without any trouble.
Problem:

Nothing plays at all.. I see no video!

Our videos require you to have installed something called the Adobe Flash Player 9. About 98% of the web surfing world has Adobe Flash Player installed already on their system, so if you do not have it currently installed, you need to catch up with the times and install it! It's one of the easiest installations you'll ever have to do... just click one button... no reboots necessary!

PLEASE NOTE: You must have a recent version of Flash Player 9 (any version later than December, 2007). So if you are having difficulty playing our videos and are unsure which version of Adobe Flash Player is installed on your computer, visit Adobe's Flash Player website to quickly and easily download the latest version.
Problem:

The video playback is choppy and stuttering!

If you find that the video playback is choppy or stuttering, it is likely that your computer does not have enough horsepower to play our high resolution video files. The other possibility is that your internet download speed is not able to keep up with the video (slow connections), or your internet connection isn't stable. HD video online is very demanding on older systems and really is meant for more modern PC's. If you are experiencing playback stuttering or choppiness, you can try eliminating any running tasks other than your browser that could be wasting free processing power... things like Anti-Virus scans, file sharing applications, etc.

For those of you having problems with playing back the HD videos, try watching the SD (standard definition) versions, as they are far less demanding on processing power and are easier to play on older (slower) PC's. But just know that it is normal for everyone to experience a random stutter every now and then... it's just the nature of online HD video. (I guess that's the cost of being on the bleeding edge!)
Problem:

I've tried everything and it still doesn't work!!!

Well you didn't buy our 3-year platinum support plan, so tough noogies.

Just kidding. Drop us a line at help@bassfishin.com describing the problem you are having and we will help get the situation resolved. Generally, problems related to playing our videos are an easy fix, so let us know if you're still having difficulties. We're glad to provide assistance.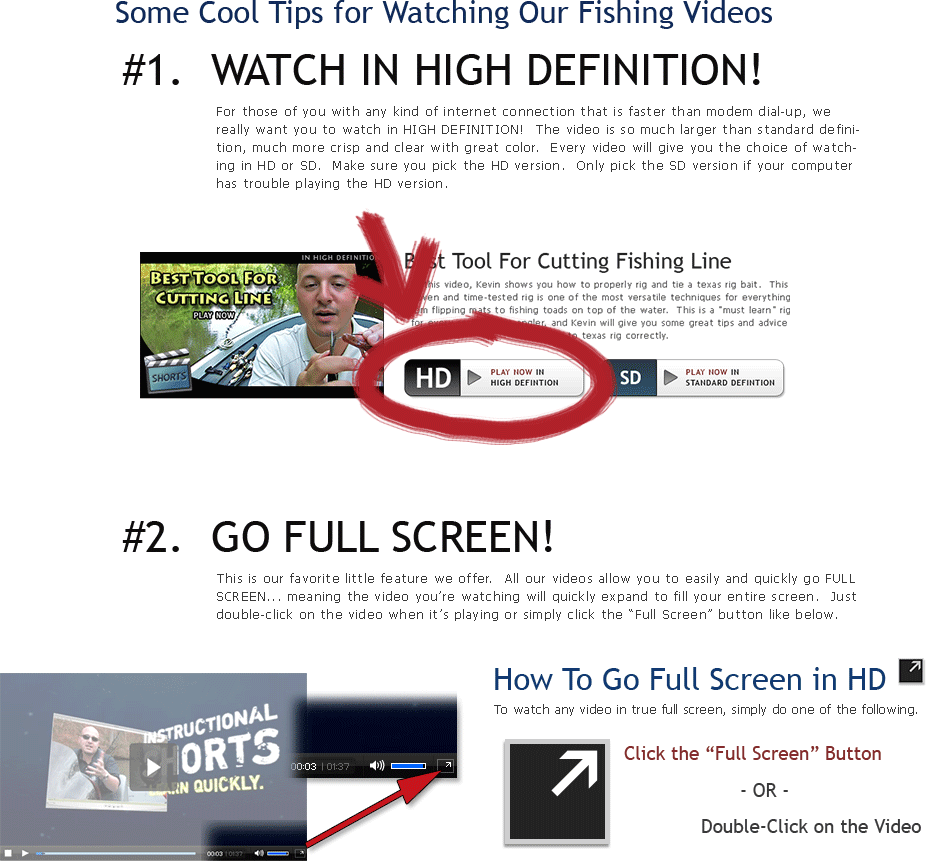 Still having problems?
Let's get it resolved.